Hotel guests are engaging with multiple devices and digital channels to make their lodging purchase decisions. This includes: website, organic search, paid search, social media, meta search, email marketing, mobile, and listings on referral sites. In the info-graphic below, Think With Google (Google's digital media research unit) summarizes the digital purchase journey of the US travel consumer. Channels on the left of the info-graphic play an early role to assist in a typical purchase and channels to the right are more likely to be the last touch points before a purchase. So, even though the conversion may happen through a direct purchase, there is a high likelihood that the purchase was influenced by digital channels upstream in the purchase cycle. To understand what this means for a hotelier, please click the button below to download the free white paper.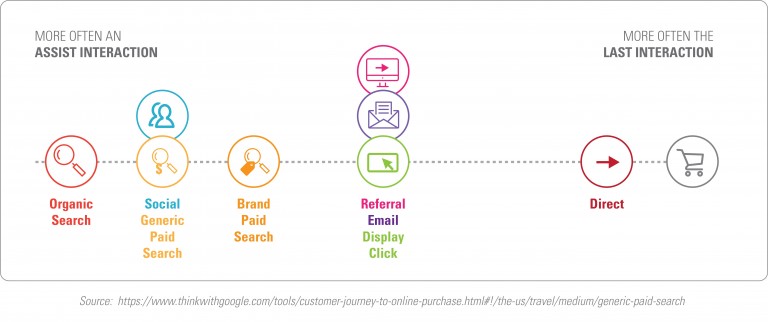 The customer journey chart above is validated by the data that we are seeing across our portfolio of customers. We find that organic and direct traffic contributes to over 63% to the path to conversion, with significant contributions from paid search, social channels, email and other digital channels. It's important for hotels and restaurants to have a holistic multi-channel digital marketing strategy with optimized presence across organic, social, paid, display, and referral sites to maximize revenue from the website.
To understand in detail how to optimize your customer's digital journey and drive higher conversions, Milestone team has produced a webinar, where we highlight the key trends impacting search and conversion including benchmarks for marketing campaigns. Hospitality businesses can create successful targeted marketing campaigns by understanding the stages of the conversion funnel, and the benchmarks for success in each stage.
In the rapidly changing digital world, optimizing the customers digital journey across the channels is key to winning customer confidence. Success lies in managing the entire conversion funnel vs. any specific channel or media. At Milestone we have extensive experience of helping businesses create an effective digital marketing strategy, should you have more questions regarding how to build your digital dominance, please write to us at, sales@milestoneinternet.com.
Contributed by:
Gaurav Varma, Product Marketing Manager